Turbo Kees' Stories
Turbo's Story
As told by Suzi...
The Turbo Kees Foundation is founded in loving memory of my dog Turbo; my companion, my friend, my inspiration. Turbo lived 9 years, 5-years longer than any would have guessed. He became part of my life in 1988 when I walked into a pet store and saw the most beautiful puppy I had ever seen. Little did I know the immense impact this fuzzy little bear would have on my life. The first four years of his life were happy and healthy. He instinctively could sense danger in people and conversely, always seemed to know when someone needed extra attention. He performed countless heroic actions including what I believe was saving a child from being grabbed off the street.

By the age of 5, Turbo was having trouble walking. If his life was to continue, he required a total hip replacement. He made it through the first hip socket replacement, but while recovering before the other hip replacement could be done his health took another downward turn. What made things even worse was that my Veterinarian at the time did not believe me and attributed his behavior to his recent surgery. I finally found a Veterinarian who listened to my concerns and Turbo was diagnosed with Lupus. Tests subsequently diagnosed him with insulin dependent diabetes, pancreatitis and hypothyroidism.
Turbo was a family member. At no point did I ever think of ending his life, any more than I would have ended a family members life if given the power to do so. I cared for him and was rewarded with the unconditional love he had always given me, from the day I held him in my arms the very first time. It took a team of Veterinarians to give him the quality of life worth living; to them I am indebted. Through it all he was a champ. To anyone who has lived with serious illness, you know there are good days and bad days. I believe he was willing to survive the bad days more for me than himself. I was not willing to say good-bye yet and he wouldn't give up until I was ready. Everyone who treated him became connected to him. I owe great thanks to the many Doctors. Turbo never let his discomfort change his personality. He never became mean or vicious.

Turbo was given less than 2-years time to live. He went on and lived 5 more years. It was now a reality that I had to accept that our time together was over. When Turbo fell ill again I called Dr. Seiwick and told her it was time. There were far more tears than mine shed that night. I said good-bye. I know when my time comes; he will be waiting for me. I became involved in Keeshond Rescue because of Turbo's precious life. It became a quest to see how many other lives my partners and I could save by providing foster care until they a loving home could be found. Some of course, can never be placed because of severe abuse, medical requirements etc. Those lives have remained in our foster care. It was the total committement to Turbo that resulted in naming our organization, the Turbo Kees Foundation. Every life is important, every life counts. It is our hope that we can continue our not-for-profit organization through private funding.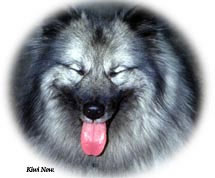 Kiwi's Story
As told by Lysa...
Kiwi spent the first fifteen months of his life in a puppymill in Iowa. A horrible place where dogs (sometimes other animals too) of many breeds are bred repeatedly to sell in pet stores. The puppymill that Kiwi was in was so horrible that the local government shut it down and seized the dogs (153 of a dozen different breeds). The dogs were sent to three different shelters. Eventually they were put up for adoption. A local college took Kiwi for use in their Veterinarian Technician Programs. These dogs are kept in kennels, cleaned, spayed or neutered and given necessary vet care. The students practice on the dogs; giving shots, taking blood, etc. The classes are about 8-weeks long. Often, either the students or the teachers will adopt the dogs. But, not in Kiwi's case. He was returned to the shelter at the end of the program. The college did not believe that he was adoptable. They had no experience with puppymill dogs like Kiwi and did not realize the potential of rehabilitation. Kiwi looked so pitiful when he came from the puppymill. So much so, that the shelter estimated him to be 5-years old, and he was actually only 15-months old!
The shelter called Diana, a local Keeshond Rescue person to say that he had been returned by the college and was available for rescue. There was no foster space in Iowa at that time. I was called. Diana drove 3 plus hours to meet me with Kiwi. She had been fortunate enough to meet Kiwi before he went to the college and again after he was returned. Diana knew there was something special about this dog and believed that given a chance Keeshond Rescue could find a home for him.
On November 30, 1998 I met Kiwi for the first time. He was extremely thin and had the worst coat I had ever seen (I've seen much worse since that time, unfortunately). When Kiwi came to the shelter he was covered in urine and feces. He had been bathed but still did not smell clean. His coat was thin, straw-like and had a red/brown tint that meant that meant bad nutrition and/or possible sun burn. I found out later that the puppymill kept the dogs loose in pens with no shelter or in cages that were not even big enough for the dogs to turn around in.
The first couple of weeks Kiwi was terrified. However, he was able to find comfort with my other dogs. He had obviously never been in a house before. Every noise and most movements caused him to run or drop to the ground in fear. I used food and my other dogs to lure him to me. After only 3-weeks of loving care, I took Kiwi to Petsmart for Keeshond Rescue day! We spent 3-hours meeting people to talk about Keeshonden and Keeshond Rescue. He was shy and tentative at first, though by the end of the day he loved the attention!
Now Kiwi is almost 5-years old and he has not missed a dog show. He is the embodiment of the Keeshond temperament. Confident, alert, intelligent, outgoing, friendly and happy meeting everyone. Whenever I work at a dog show, Kiwi is at my side. Kiwi's nickname is Mr. Business for a reason.
There were no pictures of Kiwi when he first came from the puppymill. He now has a beautiful coat due to good nutrition and love. Kiwi may have been a puppymill dog, but he's got a show dog heart!